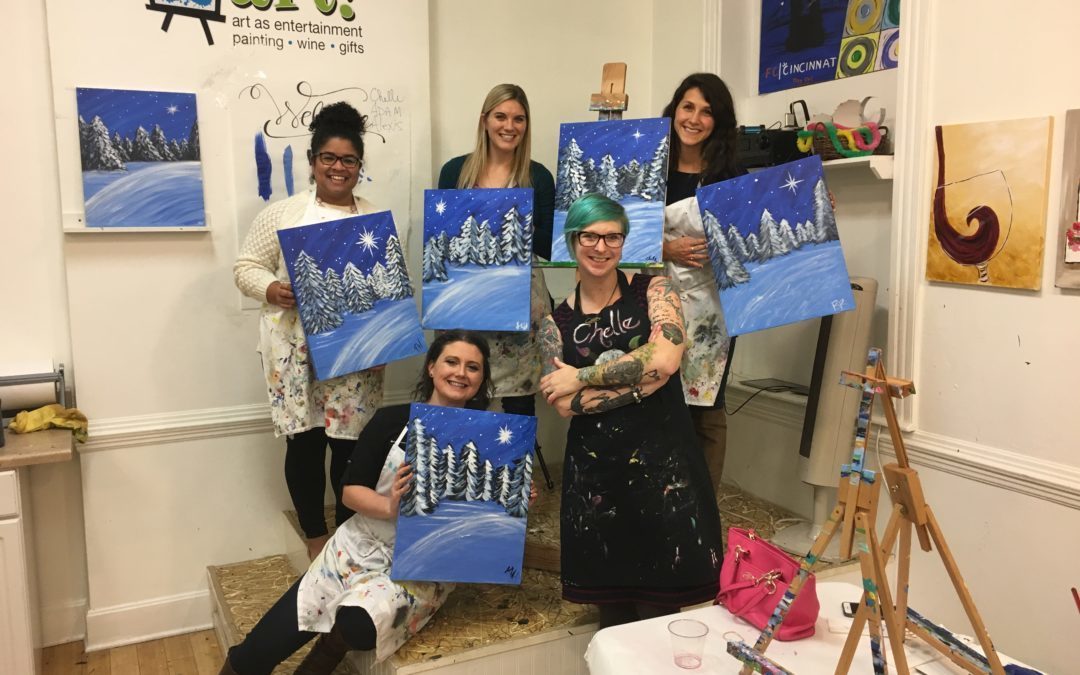 Being newer to the Cincinnati area I am always excited to learn and try out different aspects of the city. One of my most recent adventures was experiencing a painting class at Cheers to Art. There are two Cheers to Art locations, one in Over the Rhine (OTR) and the other is in Madeira. I went to the OTR location to paint a beautiful winter tree scene with some of my co-workers at Norwood Chiropractic.
The Experience
The name "Cheers to Art" tells it all. Paint with friends while having a glass or two of wine, beer, or water. The process is very well organized. The class starts with a quick introduction of the instructor (ours was Chelle) and how much of each paint you will need. Once everyone is ready to paint that is when the real fun begins. Music starts to play and the instructor is in the front of the class with the same blank canvas that you have in front of you. The instructor gives step by step instructions and in between each step you are given 5-10 minutes to work on your masterpiece. By the end of the session you almost feel like you could be the next Pablo Picasso or even Bob Ross.
The welcoming and helpful staff are there to help with any painting questions you have or drinks that might need refilled. However, the best part about Cheers to Art is that while everyone is taking the same step by step instructions, we are free to paint our artwork as we see fit. While all of our artwork might resemble the same objects, we each get to take a different creative spin to it, making each painting completely different and unique from the original painting that everyone took inspiration from. Once you have finished, you are left with a piece of artwork that looks like it could be hung in the finest of museums (or at least I thought so). The drying time is very minimal so you are even able to take it with you when you are ready to leave.
Try Something New!
My adventure ended with something beautiful to hang on my wall and an everyday reminder of a great night with friends. If you are looking for a fun afternoon or evening with friends or family, Cheers to Art is a great experience and highly recommended by me.