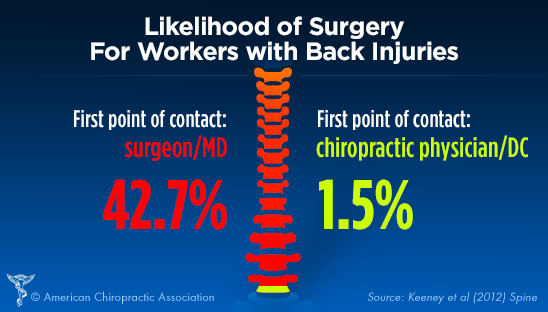 If you've been searching for low back pain treatment in Cincinnati, and would like to potentially avoid surgery and over-medication, consider what Norwood Chiropractic & Sports Injury Center can do for you.
Alternatives to Surgery: Non-Invasive and Cost-Effective
"Reduced odds of surgery were observed for…those whose first provider was a chiropractor. 42.7% of workers [with back injuries] who first saw a surgeon had surgery, in contrast to only 1.5% of those who saw a chiropractor."
– Keeney et al (2012), Spine
In our very fortunate position – having the most advanced medical care in the world, and certainly the most technically advanced – we are almost conditioned to look for surgical options for chronic low back pain. We are led to believe that surgery guarantees success. Unfortunately, nothing is a guarantee and countless studies on spinal surgical outcomes after five years prove surgical outcomes are a little better than a coin flip. 6/10 people on average have success greater than 5 years post-op.
But even as surgical options have increased, the National Institutes of Health's latest reports show that complementary and integrative health approaches are the primary choice of almost a third of US adults.
As chiropractic care, massage therapy, and other non-invasive patient-centered approaches to healthcare have grown in popularity, so has our understanding that treating whole person – without drugs or surgery – makes good sense, both medically and financially.
"Manual-thrust manipulation provides greater short-term reductions in self-reported disability and pain compared with usual medical care. 94% of the manual-thrust manipulation group achieved greater than 30% reduction in pain compared with 69% of usual medical care."
– Schneider et al (2015), Spine
In fact, for more than 20 years, the U.S. Agency for Health Care Policy has considered chiropractic manipulation the gold standard for treating low back pain.
Research also supports chiropractic care as an effective treatment for neck pain, headaches, carpal tunnel syndrome and other common pains and injuries.
A variety of more recent studies have shown that chiropractic care, including massage, active release therapy (ART), and other manual therapies are cost-effective, as well. A review in the British Medical Journal showed that manual therapies provide faster recovery than physiotherapy, medications, and general practitioner care and that manual therapy-treated patients cost about one-third as much.
"There is not a pill or surgery on the planet that can help a deconditioned core. For most people it is as simple as improving function, and teaching them to reduce their risks. Effective treatment is rather simple actually." –Dr. Rick Yost, DC
Please contact us when you're ready to work with medical professionals focused on your relief, recovery, and best results. Our Norwood and Mason clinics are here to serve you.