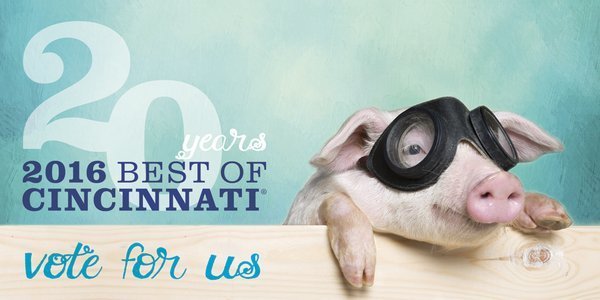 At Norwood Chiropractic and Sports Injury Center, our doctors and staff continually strive to provide the best conservative health care and patient experience in Cincinnati. As a result, 98% of patients tell us they would refer friends and family to us and, in 2015, we were honored to receive their votes to be CityBeat's Best in Cincinnati.
If you had a great experience with us and feel we deserve this honor again, we would really appreciate 5 minutes of your time to vote for us this year. Thank you for trusting us with your health, and supporting us with your votes!
Send the confirmation of your ballot to norwoodchiroprac[email protected] and you will be entered into a drawing to win an hour long massage!
We will pick 3 winners after voting has ended.
Voting ends at midnight on Tuesday, February 8
Here is how to vote:
1) Click this link & register to vote:
http://survey-citybeat.wehaaserver.com/survey-122-best-of-cincinnati-2016-final.html
IMPORTANT!
2) The ballot is organized into 6 sections. You do not have to vote in every section, but you do have to go through all six sections hitting "submit and continue". Also, you must vote for at least 10 businesses for your ballot to count. So make sure you support everyone you love in Cincinnati!
3) Our clinic is listed under the sections "Shops & Services". Scroll down to the category "Chiropractic Practice/Clinic" and vote for us in that category and the "Massage Therapy Practice/Clinic" category!